a simple and trusted path to a calmer birth...
Hypnobirthing online content...
✓ 10 hypnobirthing tracks
✓ Self-study webguides
✓ Birth partner script
✓ Birth plan templates
✓ 70+ positive birth stories
✓ Hypnobirthing birth videos

"We loved the webpage-based approach - relieved to escape endless video tutorials" Amy, NYC

Try your free 20 minute hypnobirthing MP3; get comfy, turn up your sound and press play...
"You have one of the nicest voices I've heard in my search for hypnobirthing MP3s. I chose your downloads because I think it's really important to hear a voice that's easy to listen to" Jean, Wiltshire
"I recommend you to absolutely everyone!" Jayne, midwife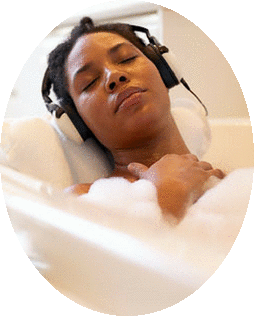 "I cannot recommend this enough. I explored other hypnobirthing resources but I found many of them to be too strict and even critical. I always felt Alice met me exactly where I needed to be" Elisabeth, Japan

My relaxed and flexible approach to hypnobirthing helps you to have a calmer experience; no matter which path your birth journey takes. Our positive reviews and birth stories speak for themselves.
I'm Alice Rosemary; accredited clinical hypnotherapist and one of the UK's most experienced hypnobirthing teachers. My background in midwifery enriches my content (more about me)

As a registrant of the Professional Standards Authority accredited Complementary and Natural Healthcare Council (CNHC), I'm a trusted provider as recommended by the NHS
I've taught thousands of families all over the world. I began teaching hypnobirthing in 2006 and launched 'Hypnobirthing Online' in 2012.
I believe in keeping things simple, affordable and flexible. Regardless of which online hypnobirthing course you choose (there's suddenly loads of them!) the key to success is your own commitment to regular practice.

The theory is easy and can be explored in just a few hours via my FREE online hypnobirthing course - the rest is down to you!
"She couldn't believe I was still laughing as I entered the birthing unit...

"My sister in law introduced me to your online hypnobirthing course, having had huge success with it. I will admit to being extremely dubious, but at the half way point in my pregnancy, I was willing to try anything. I listened to the tracks at every opportunity; it was working! I began to plan my labour in a much calmer manner.

One evening, I'd been experiencing braxton hicks for most of the day and had used the tracks to manage them. It was only when my husband noticed that I was tightly gripping the headboard that I realised that this was real labour.
I took myself downstairs and allowed the tracks to lead me for the next two hours: through what I thought was the early stage. My husband spoke to the hospital, who asked him to bring me in. I was in my calm birth bubble and telling my husband that I was fine and to go back to bed...
Things became more intense on the journey and I felt the urge to push. I kept listening and kept calm. My waters broke almost immediately upon arrival; my lovely midwife said she couldn't believe I was still laughing as I entered the birthing unit.
My husband kept the music and affirmations playing in the birth room and the calm lighting was perfect. My daughter was born before the pool was even close to filling up!
My husband always says he cannot believe how calm I was, and I must admit to being really proud of myself. There was none of the panic and fear of my previous delivery. It was perfect and I felt completely healed.
I am so grateful to Alice for what she has given me. I have only positive memories. Birth without fear is truly possible! It is a message that I share with all my friends and family who are expecting." Rebekah

...

"I was initially disappointed to need a caesarean due to baby being breech, however your course and particularly the positive caesarean birth preparation audio helped me to stay calm and enjoy a beautiful birth experience.

I went into labour spontaneously and reached 6cm before going ahead with the caesarean as baby didn't turn during labour.
My husband and the midwives all remarked on how serene and happy I was throughout, despite having very regular and strong contractions and being nervous about the operation.
I have also been successful with breastfeeding and feel this is down to how calm and happy I felt after Jonah's birth. Thank you for your wonderful course" Gemma, Northern Ireland
...
"I just wanted to share my birth story of my second son, as I found hypnobirthing to be such a positive experience.
After the birth of my first son (now 3 years old) I felt out of control and quite traumatised. I had a lot of fear about giving birth again.

My best friend, Zoë, had tried your hypnobirthing course very successfully, so I thought I would give it a go, and I'm so pleased I did.

At 37 weeks + 5 days I started having quite regular contractions around 3pm, which became more frequent and intense over the next few hours. I hadn't had as much time as I had hoped to practice the hypnobirthing tracks or visualisations, although Zoë advised that any practice was more than I had previously had and would be useful during labour and birth!

In particular, during the early stage of labour, Zoë had reminded me about a balloon visualisation, which I hadn't previously practised, but I can honestly say was the key thing that really helped me work through the contractions... I imagined with each contraction that I was blowing up different coloured balloons for my 3 year old's next birthday party! This took me to a completely different "world" in my head and I really felt my body take over as I was able to release myself from my "thinking brain" (something I struggled to do with the last birth). My husband was surprised that I was pretty silent for the majority of my labour!

I decided it was time to head to the birth centre about 9:30pm, and felt very close to needing to push by the time we arrived. We walked in and I clocked the time at just after 10pm. I'm sure the midwife thought I wasn't as close as I was to giving birth, as she took a very relaxed approach, most likely because I was very calm.

I started Alice's hypnobirthing affirmations tracks once I got into the triage room and felt very confident and not at all self-conscious, with playing the tracks and also the position I wanted to be in.

Within a few minutes, the midwife checked and I was 9cm dilated – I couldn't believe I had managed all those contractions with just visualisations and the birthing tracks! What a relief! A couple more minutes later and I felt the urge to push/bear down. The midwife telephoned for an additional midwife to help with the delivery.

Four pushes later and Michael Jenson Jörg flew into the world at 10:47pm, weighing 7lbs 3oz, with no tearing and very limited gas and air! Needless to say, I didn't get out of the triage room and the additional midwife missed the birth!

Overall, I felt that hypnobirthing gave me an unforgettable (positive) birth experience. I was so much more aware of my body, and trusted what it could do in order to deliver my baby. I went into labour with much less fear about giving birth, and I felt prepared and ready, as well as in control.

I can vividly remember having skin-to- skin time with Michael and feeling incredibly proud of myself!

Thank you for offering this amazing course – I will be sharing my experience and recommending yourself and hypnobirthing to friends and family in the future!" - Sara, Southampton

...
"Although this was not my first pregnancy and everything was very smooth, I was of course extremely worried to give birth during the global pandemic, and the fact that my husband could only be with me for the actual birth was also very stressful to imagine. We live in Japan and the birthing clinics are generally wonderful here, but very strict due to Covid.
Five days before my due date I had some spotting and then the next day my stomach felt very tight, so I went to my clinic for a check up. The midwife told me I was already in labour and would be giving birth soon, so I needed to be admitted. I was so distressed because I couldn't believe how fast things were progressing, and I didn't say a proper goodbye to my eldest son. I spent the first hour of labour alone in my room, crying because of loneliness and anxiety. Then I decided to put on Alice's hypnobirthing affirmations. They were so incredibly empowering and calming. I was able to really focus on my son moving down and my body preparing for birth. I realized that being alone was a bonding experience for us.
This birth was moving so fast and was so intense that at times being on all fours, breathing deeply and meditating with the affirmations was the best way that I could stay present. Shortly after, the midwife told me I was in the final stages of labour so I needed to call my husband immediately and move to the birthing room. I didn't believe her because I still felt relatively calm and in control. A few minutes later however, I had a some very intense surges and I knew that my son was almost out! I had one moment that I was suddenly overwhelmed, but I told myself one of Alice's affirmations "I am the strongest person in this room" and knew I was alright.

Luckily my husband arrived just in time (by bicycle!) for the birth of our second son, Sora. The three of us were able to spend an hour together in the birthing room before my husband had to leave. It was a magical hour for sure.
I cannot recommend Alice's course and materials enough. During both pregnancies I explored other hypnobirthing resources but I found many of them to be too strict and sometimes even critical. I always felt Alice met me exactly where I needed to be. Thank you so much and I will keep using your techniques even outside of pregnancy" - Elisabeth, Japan