Hypnobirthing Classes in Cornwall...
Practising hypnobirthing during pregnancy enables you to increase confidence and reduce anxiety. The more relaxed and positive you feel, the quicker, more comfortable and calmer your baby's birth is likely to be, however you give birth¹

"Oscar's birth was a wonderful, magical experience thanks to you!" Emma Knight, St Eval
A full, affordable hypnobirthing course for mums and birth partners...
✓ Cornwall classes with expert Alice Kirby
✓ Debriefing any previous births
✓ The mind-body connection
✓ Birth physiology
✓ How to increase comfort
✓ Active birth principles
✓ Hypnosis for relaxation & focus
✓ Useful tools for partners
✓ Helpful breathing techniques
✓ Birth rights and choices
✓ Hypnobirthing and essential oils
✓ Processing fears, anxieties and doubts
✓ Using affirmations and visualisation
✓ Creating an optimal birth environment

"I recommend you to absolutely everyone!" Jayne Cosgrove (midwife)

"Yours was the only voice I liked listening to!" Kerry Gavrilidi, Bath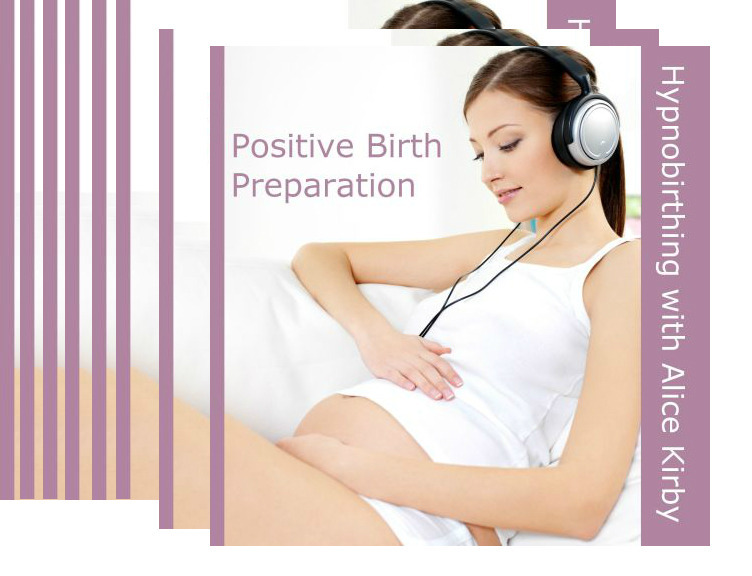 ✓ Hypnobirthing program of 10 MP3s
✓ Experience hypnosis sessions
✓ Watch the famous short film 'Birth Day'
✓ Download 1 hour of relaxing birth music
✓ Free gorgeous essential oils x 2
✓ Free access to my online course
✓ Weekly e-newsletter & daily affirmations
✓ Ongoing support via email / phone

"Our very heartfelt thanks to you for an excellent course. We really enjoyed it and got a lot out of it. We feel closer on our journey to having our baby. We felt that your delivery was professional, yet personal and from the heart" Katy Bryce & Adam Weismann, Manaccan

Which hypnobirthing company?
We all essentially teach the same thing. Whichever you choose, the key to success is your commitment to regular ongoing practise in your own time. A longer or more expensive course doesn't in itself improve results (I've taught them!) My approach is deliberately straight to the point, no nonsense ~ you'll be up and running with your practise immediately. This is Cornwall's longest running hypnobirthing course, and over the past 10+ years my families have achieved amazing results ~ read our hypnobirthing stories


"Alice is fantastic at what she does! We saw Alice in person twice, but also felt safe in knowing we could always ask her for advice at any time during the pregnancy. Our birth was amazing... If you want to be as prepared as you can for birth, and want it to be a natural and empowering experience, I would highly recommend Alice!!" Jemma Hoare, Truro


About me...



I'm a hypnotherapist and childbirth educator with 16 years of experience in the childbirth field (including 2+ years catching lots of babies as a London trainee midwife). I've also had a drug-free home waterbirth using hypnobirthing
(full bio)
Where?

Private hypnobirthing workshops are held at your Cornwall home or holiday accommodation. I bring everything I need ~ just provide a quiet space to chat and relax.
When?

If you schedule workshops to begin from around 25 to 30 weeks, you'll probably be more focused to practise the techniques regularly. If you're full term the course is still worthwhile. If you're in the early months (or planning to conceive) and terrified of the thought of giving birth, you're welcome to book any time.

Please book your dates early to avoid disappointment ~ there's no deposit to pay. Choose between:

2 x 2/3 hour workshops

1 x single 4/5 hour intensive

Fee (inc expenses): £150 (or £25 online)
In-person or online?
It's up to you... Home visits can increase your motivation to invest time into your practise. Practical demonstrations enable you to try out your hypnobirthing tools under expert guidance. My workshops also include lots of personal consultation, e.g. discussing your individual needs and choices. Some birth partners might be more likely to get involved in home workshops.
"I cannot recommend this highly enough. Alice's hypnobirthing workshops helped me have a really wonderful birth (despite being unexpectedly induced!) and I'm certain that not only I benefited but also my partner and our little boy" Rae Jones, Helston